2016 USA Cycling Foundation Collegiate Scholarship Recipients
Colorado Springs, Colo. - The USA Cycling Foundation is pleased to announce the four student-athletes chosen to recieve the annual John Stenner and Joshua Kuck Memorial Scholarships.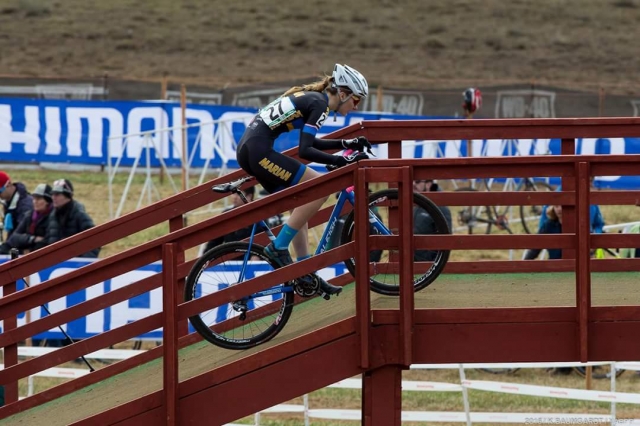 The women's John Stenner Memorial Scholarship was awarded to Kathleen O-Neil (Virginia Polytechnic University) while the men's Stenner Scholarship was awarded to Max Ackermann (University of Wisconsin, Madison). The women's Joshua Kuck Memorial Scholarship was awarded to two deserving individuals, Laurel Rathbun (Marian University) and Allison Crow (Stanford University).

The John Stenner Memorial Scholarships are based on academic achievements, athletic accomplishments and service to the community with an emphasis on collegiate team involvement and leadership. Stenner scholarships are funded by donations to the USA Cycling Foundation in the name of John Stenner, one of the founders of collegiate cycling.

The Joshua Kuck Memorial Scholarships are based on outstanding achievements in the areas of cycling safety, advocacy and education. The program is funded through the USA Cycling Foundation by directed donations from the friends and family of Joshua Kuck, a University of South Florida collegiate cyclist who was killed on his bike in 2007.

Each of the four recipients will receive $2,000.

Kathleen O'Neil is a junior at Virginia Polytechnice University, majoring in Biological Sciences and she is currently on the Dean's list. She races category one and is the Vice Preisdent of the mountain bike team. O'Neil is also the Atlantic Collegiate Cycling Conference's women's representative and had five wins in collegiate road racing this spring. She is a club race director, group ride leader, trail advocate and community volunteer in other areas beyond cycling.

Max Ackermann is double majoring in economics and entrepreneurship. Max has numberous top results in both collegiate and pro/1/2 category racing including a top ten at stage two of the Joe Martin Stage race this spring. He has been a team leader at the University of Wisconsin, Madison for the last two years, race director, cyclo-cross clinic organizer and group ride leader during his club tenure. He has worked hard to grow the team and takes great pride in team accomplishments.

Laurel Rathbun will be entering her junior year at Marian University with 3.83 GPA, on the Dean's List and is a USA Cycling Academic All-Star. She will be the Junior Class President at Marian next year. Laurel and her team work locally with inner city youth development organizations to get kids on bikes, teach life skills as well as health and safety. As an accomplished cyclist she has been selected to represent the United States at two World Championships on the track and road and made the podium at the Pan American Cyclo-cross Championships last year.

Allison Crow is a senior at Stanford University majoring in Chemical Engineering with a 3.9 GPA. She is the women's development captain of the cardinal cycling team, current club president and a member of the world famous Stanford Marching Band. Allison is a winner of the Class of 2016 Excellence Award, the recipient of several awards in the field of Chemical Engineering and published three times in the last two years. She was invited to present her research work to the American Institute of Chemical Engineering National Conference. Allison helped write the Stanford Cycling Constitution, leads skills and safety clinics and has been a group ride leader for her team.







This Article Updated June 10, 2016 @ 04:52 PM For more information contact: